A message from a Zen Master to you.
WELCOME TO 
AUTHENTIC TEMPLE ZEN
We live in extremely challenging times. Every day we read the news, there seems to be some dire new estimation of our social and planetary condition. Now, more than ever, it is important for human beings to "Wake up".
It can seem especially challenging to find clarity, stability, and wisdom for living fully in this world. So many sources of data and information, so many obligations and interruptions.
Hyon Gak Sunim is known, the world over, for his uncanny ability to convey the teachings of Zen in a way that is crystal clear, engaging, relevant to today's issues and conditions, and often irreverently funny.
The ancient teachings come nearer to your lived experience of life in the modern world when this slightly dangerous monk opens his mouth to explain things.
Are you ready for the ride down the Path to your True Self? Sunim introduces the course in these four simple introductions to what we will all experience together.
In this Free Course, "Introduction to Zen", you will get 3 videos (plus one bonus video) introducing you to Sunim's personal story and his path -- your path -- straight to the heart of Zen.
1. Why Authentic Temple Zen?

2. Why is Zen like water?
3. Why practice Zen in the modern world?

4. BONUS: What is Enlightenment? -- 
excerpt video preview
5. BONUS+: Your Moment of Zen
Start the Journey Inward
Introduction to Zen:
Free
Registering here entitles you to the three Free Videos -- plus two bonus videos -- introducing you to a Zen monk living in the modern world.





Sunim's Zen Training in Korea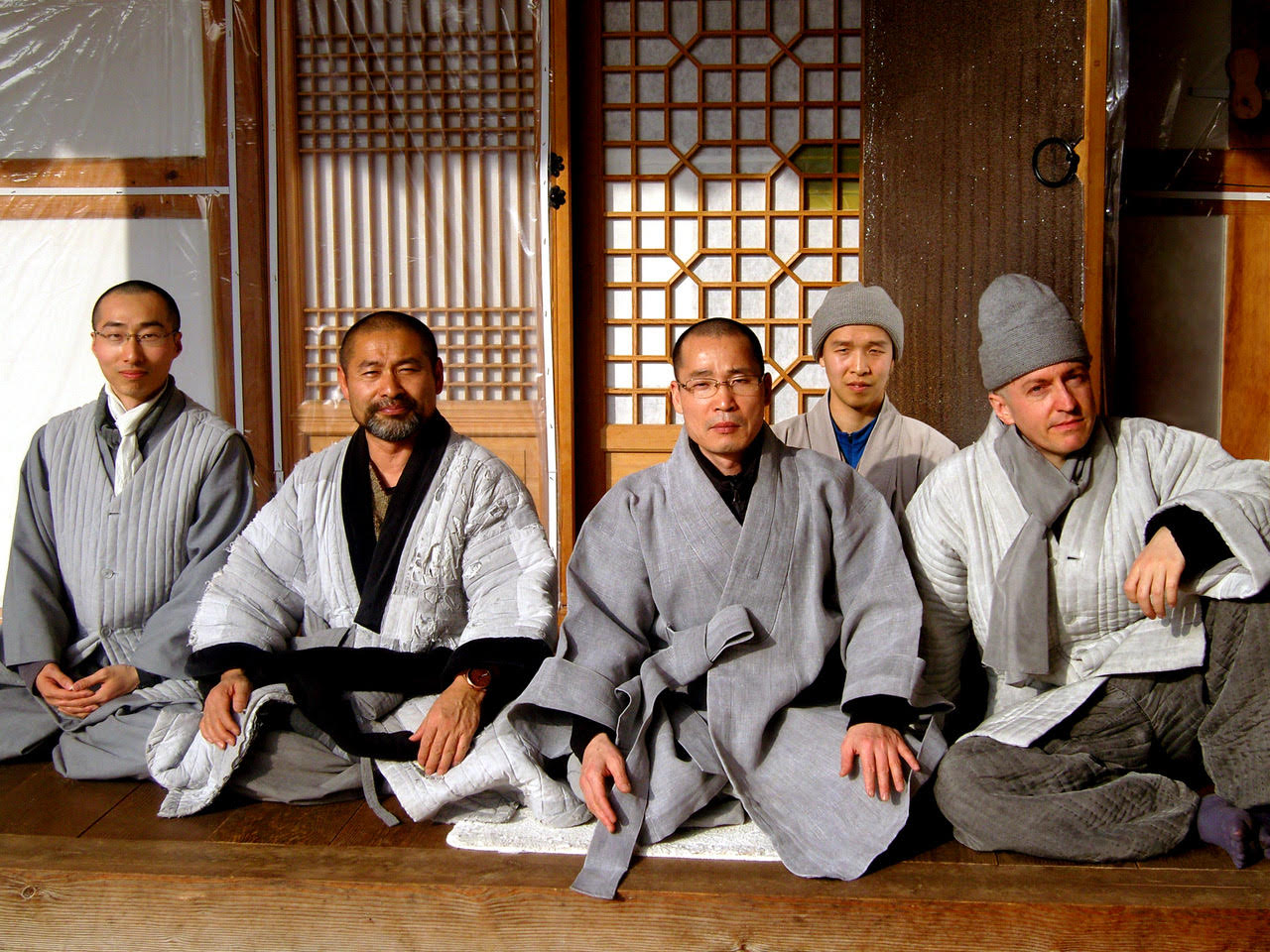 End of 90-Day Retreat
Bong Am Sah Temple, Korea

Hyon Gak Sunim on the concluding day of one of the 90-day intensive retreats ("ango") he attended at Bong Am Sah Temple -- one of Korea's great training temples (founded in 897 C.E.). He was the first Westerner admitted to practice there in Bong Am Sah's 1200-year history.
To his immediate right is the Head Monk, one of Korea's most esteemed Zen practitioners, Boep Ung Sunim. To Boep Ung Sunim's immediate right is Cheol Ung Sunim, a legendary Zen monk admired for his strict discipline but wild ways.
Both monks became Sunim's closest Dharma brothers, and requested him to continue training at Bong Am Sah for a full three-year stretch of ongoing retreats -- an invitation given only to a small group of practitioners whose commitment to the Dharma is esteemed by the monastic and lay sangha. The invitation to take up a long training-residency at famed Bong Am Sah was never given to a Westerner in Korean Buddhism, either before or since.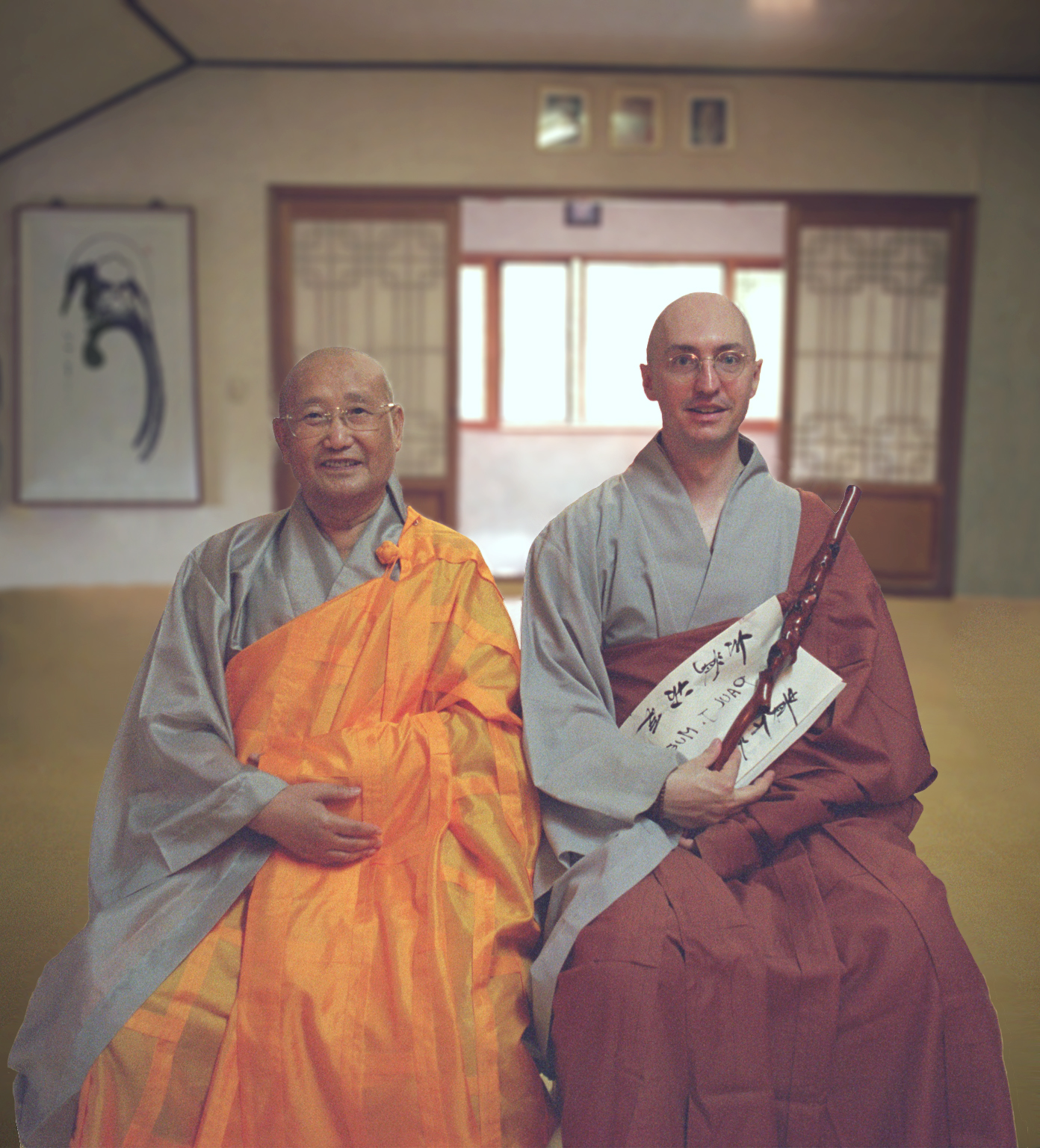 Formal Certification of Awakening (inka)


Hyon Gak Sunim's insight was tested in "dharma combat" in 2001 before his Teacher, Zen Master Seung Sahn (1927-2004), and an assembly of nuns and monks at Hwa Gye Sah Temple, in the mountains of outer Seoul. This is the last authorization directly conferred by Zen Master Seung Sahn, who died two years later.
In 1,700 years of Asian Zen tradition and the Chogye Order of Korean Buddhism, formal inka means one is publicly recognised as a 禪/(Soen) 師/(Sa) — literally the words "Zen" and "teacher" [Jap.: Zenji], what is sometimes called in the West a "Zen master".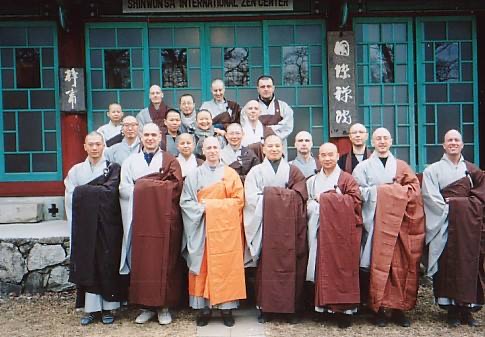 Winter Kyol Che, 1999-2000

A photo from the sixth (and last) 90-day intensive Kyol Che ("ango") that Sunim attended at poor Shin Won Sah Temple, located in the Gye Ryeong Sahn mountains of Korea. (Sunim is second from right.)
This is also the temple where Sunim first attended ango, while still a graduate student at Harvard Divinity School, in 1990-91. He became a full monk the following year.
After this 1999-2000 retreat, Sunim was admitted to do the 90-day ango in the more traditional temples on Korea. In some of those cases, he was the first Westerner admitted into the monks' assembly, and his strong moment-to-moment practice there opened the door for other Westerners to be considered for admittance in later years.
In 2010, Sunim made himself formally independent of the teaching structure of the Kwan Um School of Zen, where he was raised. He began to assert independence from Chogye Order Buddhism in the summer of 2016, and more emphatically in November 2020.